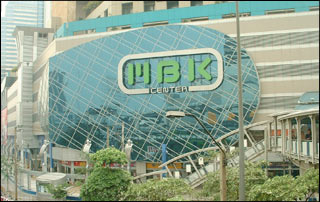 Thailand and Bangkok have developed into one of the best and most popular shopping locations in Asia, and with good reason. Prices are low, quality generally high and the range and variety is pretty amazing - silks, gemstones, tailor-made clothes and traditional handicrafts are all highlights of Bangkok shopping. Most shops seem to be open 10.00am to 10.00pm everyday of the week, and nightmarkets carry on even after this time - all very convenient in being able to go shopping at basically any time you want. Buying a shopping map is very useful in order to get the most out of shopping in Bangkok - despite the garish colours, the 'Nancy Chandler' map is actually very useful and probably the best.

Silks, nielloware, lacquerware, silverware, bronzeware, pewterware, pottery, gemstones and jewelry and all types of handicrafts are particularly good souvenirs of a trip to Thailand, while clothes and tailor-made clothes are widely available and inexpensive. Fake goods of all types abound and can be bought at a fraction of a cost of originals. There are different manufacturers of fake goods, so the 'Rolex' watch costing 6000B will be better than the 2000B one, which in turn is superior to the one at 500B.
Most vendors and staff at stores speak good enough English, though non-fixed prices are often bargained by you and the vendor taking turns in typing numbers into a calculator. It's worth learning how to say the
numbers in Thai
- this is easy, will save the calculator routine and may well get you cheaper prices too.

Street stalls and shops on the street will generally have lower prices for the same product than those paying premium rents in hotel shopping arcades and some higher end shopping centers and department stores. The price difference can also reflect on the quality of the product though.
Duty Free shopping can be done at the Thailand Duty Free Shops Company branch in the World Trade Center on Ratchadamri road. Goods can be pre-ordered here and then picked up at the airport - you have to show your passport and airline ticket in order to make a purchase. It's not really worth it unless you are particularly short of time at the airport.
Many of the larger and more specialized shops now offer shipping abroad, and they will sort out the necessary documents and permits for this. Insurance should also be included. If you don't feel comfortable with this, there are specialized companies that will do it and sort out the arrangements for a fee. The GPO also has a parcel-wrapping service, and smaller items can be mailed from here. Another option is to go Thai Airways office on 485 Silom road and, for a fee, they will ship them and sort out documentation for you.